Doodle vs Calendly vs WhenIsGood | Overview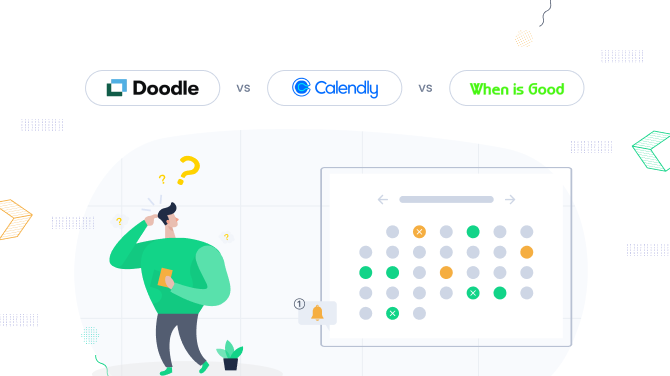 Let's compare a few of the best-known software for online meeting scheduling, such as Doodle vs Calendly vs WhenIsGood.
All these tools are commonly used for face-to-face appointments and meeting schedules for a multitude of niches and are handy for both small and even enterprise-grade businesses.
These online tools will take out all the hassle of automating team collaboration and meeting schedules, while you can spend more time on your other business tasks.
Doodle vs Calendly vs WhenIsGood – Which one is best?
By highlighting their features, pros, and cons, we hope to narrow down your choice and help you select the one that meets your business needs best!
There is no universal option but decent ones definitely exist!
Let's get going.
Doodle – powerful and robust software
Doodle has numerous tools for organizing group meetings, which means it's perfect for managing your team calls, one-to-one coaching sessions, yoga classes, and more.
Doodle provides you with a really simple-to-use, modern interface that takes minutes to get acquainted with. You can start scheduling your meetings almost right after the software setup and launch!
Doodle can work just by providing your clients with a link to the next meeting, where they need to pick an available date and time.
Overview & features
Smooth integration with popular calendar software tools: Google Calendar, Office 365, and iCal.
Zoom, Google Meet, and Webex integration for video calls, screen sharing, and cloud calls.
Works for multiple employees and clients.
Full-scale automatic meeting reminders.
Group polls.
The auto-detected time zone of your client.
Multiple calendars that you can manage from one account.
Easy admin console.
Pros:
Enterprise-level security.
It has plans based on the number of clients you usually work with, so you never need to pay more.
Research and report knowledge base.
Free trial.
Cons:
The per-month cost of using the software increases based on how many people use it, so it might get pretty expensive for small businesses.
Some features, such as roles and permissions, are available only starting from the Team plan.
Pricing as of 2022: starting from € 6.95 /user/mo.
Calendly – feature-rich software
Used by several million people, Calendly allows you to create multiple meeting types, including custom ones. It's a time-proven assistant in automating the scheduling of two-people meetings as well as group ones.
It has many features in common with other scheduling software tools, so it works simply for clients – they pick the needed time from the available ones and the booking is added to your calendar.
Calendly delivers tons of tools for the meeting detail updates, follow-up reminders, team management instruments, customizations, and other features – although notice that not all of them might be available in the plan you choose.
Overview & features
Easily embeddable booking calendars.
Schedule meetings for small and large groups.
Buffer times and many other flexible features to customize the before and after the time of the appointment.
Automatic time-zone match.
Marketing and analytics tools integration: Zoom, Webex, Hubspot, Zapier, Intercom, Google Analytics, Hubspot, etc.
Payment processing via PayPal and Stripe.
Collect leads by automatically adding your meeting attendees' addresses to your marketing lists.
All cycles of notifications and reminders are fully automated.
Tools to customize your profile.
Pros:
Individuals can use it as a free appointment software if they have just one type of service to offer.
Fast and easy meeting rescheduling for clients to reduce cancellations and no-shows.
Extra addons for Chrome and Firefox for instant notifications right in your browser.
Different prices are based on how many people are on your team.
Extra tools to retain long-term clients and prioritize meetings based on company size.
Schedule meetings in one click for regular clients.
Discounts if you buy a premium plan with an annual license instead of a monthly one.
Cons:
A free plan supports only one type of meeting, so to create more, you need to upgrade to premium.
Premium plans quite often differ in features.
Pricing as of 2022: free; premium plans start at $8 per seat/month.
Do You Want to Automate Your Appointment Scheduling Process?
Look no further than BookingPress.
Automate your availability and bookings to streamline your business management on WordPress with BookingPress. Easily organize your clients, transactions, email notifications, reservations, schedules, and more to keep everything centralized and up-to-date.
Interested?
Experience the power of BookingPress and join our global community of over 60,000+ satisfied users. Give it a try today!
WhenIsGood – affordable and simplistic software
WhenIsGood is a bit different software with a rather classic approach to the appointment scheduling and calendar design, but at the same time paying for it won't break your bank account.
Among the most prominent features is the ability for customers to book a free slot instantly without haphazard login pages.
Working with this appointment scheduling software basically involves creating events in a calendar and designating your availability, which you can update at any moment. You can also create an event link and send it to people who will attend it.
Overview & features
Support for the iCal format (.ics), which means you can set up the integration with external platforms, especially calendar applications, but it might not be automatic.
Familiar calendar interface color-coded with events.
You can optionally use auto-detection for time zones.
No sign-ups, easily create events and send them to your customers.
Automatic notifications.
Pros:
People can easily reschedule their meetings and make changes to bookings.
Portable to the Excel format.
Affordable pricing.
Cons:
On a free plan, the appointment durations are limited to 15, 30, and 60 minutes so budget-minded people don't have much flexibility here.
Doesn't work for multiple/different employees and schedules.
No online payments.
Pricing as of 2022: free; a premium plan is $20 per year.
Closing remarks: Doodle vs Calendly vs WhenIsGood
We hope we helped you make up your mind easier – or at least simplify your understanding of what features are crucial ones in Doodle vs Calendly vs WhenIsGood.
So here are the most basic and at the same time important criteria for choosing the appointment scheduling software app among these popular ones:
Value for money (of course!)
The intuitiveness of the interface and learning curve
The availability of integrations with other tools
Payment options
The messaging and interaction system.
WhenIsGood appears to be the most affordable solution as compared to other WhenIsGood alternatives, but it offers a slightly unusual way to organize your schedule and run bookings, with the design interface being simplistic and plain. If we compare calendly vs doodle, they share many similar features and tools as modern and customizable software for scheduling meetings with all the range of tools your business might need, but they cost more.
All these software providers give you time-tested tools so that you can rely on any if it ticks your boxes!