How School Website Booking Plugin Will Change Your Workflow for Better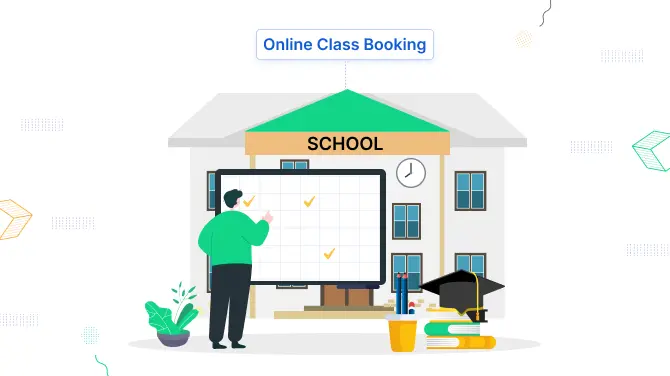 Are you up to your neck in work with the school scheduling tasks? In today's speedy world, tutors, library staff, and admins should spend minimal time on arranging stubble rooms for exams, organizing workshops, and taking care of other tasks that can be easily automated through a class booking system.
Interested in how exactly you can improve the class and meeting scheduling workflow in your educational institution? That's our topic today.
A school website booking plugin for WordPress is able to deliver multiple benefits to forever change the everyday routine of your school, for example:
Reduce time on communication and eliminate errors in availability scheduling.
Decrease the number of administration tasks, such as meeting scheduling or rescheduling.
Create individual accounts for school managers and allow them to manage sessions, classes and meetings.
And these are just a few things we can mention!
Now, let's give you more detailed examples of how different schools, colleges, universities and other educational establishments already employ the school booking tool to improve their everyday workflow.
1. Enable students to book a study room for exams
If you don't want students to flood your email box with booking requests when they need to reserve an exam room on campus or elsewhere, the room and school booking tool can solve all your problems.
The school booking software like BookingPress doesn't just enable students to reserve an exam room, it also allows you organize the process of booking much further, such as:
Add types of different rooms that students can book (e.g. private, enclosed, small).
Automate buffer times to get the rooms prepared for the next sessions.
Automate booking of particular exam periods by setting up the daily availability precisely.
Add various exam locations if you have many.
Allow students to choose which devices in the room they want to utilize (the online class booking system allows you to add different 'extras', which students can choose during the website booking procedure).
And these are just basic examples, the software's flexibility can help you tailor the class booking system to your needs. It's also possible to enable students to book online exams or events, integrated via Zoom or other video conferencing apps.
Curious how to set up a scheduling plugin? Read our guide with BookingPress, it will help you solve all the most urgent tasks of your school.
2. Implement a school admission interview booking system
If school admission processes are a big part of the life of your school, you can at least simplify how the admission interviews are scheduled.
Integrate the school booking software to set when your school can handle interviews, optionally adding responsible teachers or school admission officers to the process.
Prospective students will be able to schedule it by simply visiting your website and choosing the day and time. Spend your time on prospective students only on the day they come to the interview!
3. Centralize conference bookings with parents
It might be too overwhelming, if not to say annoying, when parents steal teacher's time. Things can be simplified for everyone when parents get a chance to self-book teacher-parent meetings though the website, via a comprehensive and intuitive booking system.
Above that, there are many ways to boost communication with parent through the booking plugin, and perform parent-related tasks such as:
Collect important information from parents: dietary restrictions, medical needs, everything that is required for a specific occasion.
Send automatic reminders to parents about upcoming events.
Generate school reports on event attendance, and more.
4. Simplify bookings of sports facilities and physical fitness rooms at school
Many schools and colleges have fitness rooms or sports facilities for hire – why spend time on managing them if things can also be automated with just one school booking software?
You can add a full list of sports inventory or other things to rent out, establish its availability, and if there is a tutor involved, you can even allow students to select the person they want to have a sports class with. The booking plugin normally allows you to set working hours/availability of the responsible person.
Of course, you can use the school website booking software for other facilities as well in case you have any at your school.
5. Make event registration in your school easier
Thanks to the online booking plugin integrated on your website, parents can easily register their children for events or workshops – or students can do it themselves.
Whether these are regular events of one-time, virtual or in-class, with a speaker or without, the booking plugin can perfectly manage this part of your school life.
6. Facilitate workshops and tutor scheduling
Extra classes with chosen tutors? Dedicated workshops? Planned sessions? These things are also very easy to organize with automated scheduling tools, even if you don't have regularity in specific types of events.
Just create them with the school website booking processes and add to the system with the availability information when needed – and you are all set.
7. Improve overall engagement rates & reduce costs
The whole purpose of integrating the automated booking software into the school website is to improve the bottom line of all your activities.
This implies improving overall engagement of students, parents and teachers, as well as reducing costs for the staff. Above that, you sure to enjoy the following benefits:
Centralize various types of information on all your meetings, rentals, and sessions in your school.
Enhance parent-teacher interactions.
Promote workshops and events.
Make all types of bookings and interactions more accessible for students, school officers and teachers.
Maximize resource utilization access to the entire website and school.
Make the management processes more transparent.
Sell extra part-time or full time courses.
Conclusion: Why integrate a school website booking system?
If you have identified any of the cases from the above examples that you have been struggling to optimize on your school website, then automation is the answer.
The most important thing is that you can add and manage all these meetings, events, sessions and classes though just one school booking tool like BookingPress, by simply creating different types of events and configuring their availability. You don't need to install and activate different software!
Integrate an online class booking system on your school website and use it as a multipurpose tool to scale to all possible scheduling processes, gradually improving the life of your students, teachers and parents.