How to Create Dynamic Discounts (Happy Hours) for Services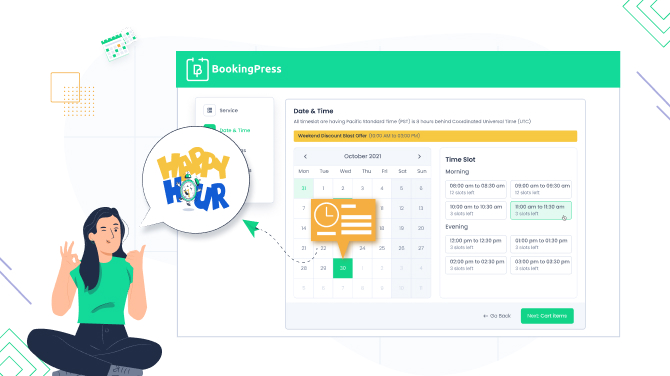 Want to offer a special discount on your services on certain days of the week, such as Mondays or Fridays, so that it's applied automatically at the right time?
With the help of the Happy Hours pricing add-on for BookingPress, you can create so-called dynamic pricing/dynamic coupons for the selected services you sell on your WordPress website.
This means just that – you can set different prices for your services depending on the time of day, day of the week, or even specific dates.
For example, you could set a lower price for your services during the "off-peak" hours, such as early mornings or late evenings, or whatever applies to your business best.
With the BookingPress add-on, it's easy to set these hours for the weekend time or any other manually selected one.
The heart and soul of this feature is that you can set different pricing for every service, and even multiple for one service, thus upselling or improving the performance only of those offerings you need.
Read also:
How to get started with dynamic discounts
To use the Happy Hours add-on, you need to be on either Professional or Enterprise plan of BookingPress.
To use the extension, the BookingPress plugin must be installed, activated, and set up.
First of all, install and activate the add-on, it's as easy as downloading a plugin and installing it within your WordPress dashboard.
Then navigate to the Services menu to configure happy hours pricing for every service.
How to set up dynamic pricing for services
Important: you can't reschedule services booked by the 'happy price' offer.
The add-on allows you to set dynamic discounts for services for days of the week (e.g. Monday's mornings) or specific dates (e.g. Christmas).
1. When you've opened an individual service menu, find the Happy Hours section that is added upon the add-on activation.
2. Tick the 'Enable Happy Hours' button.
3. Add a custom text visible to clients to signal that this price is discounted.
4. Click 'Add new' to add the 'happy hours' dynamic discount. Here are your options:
Add a title.
Select if this is a day of the week or a specific date when the new price must be applied.
Select the start and end time.
Set the discounted cost.
5. Save the changes!
Note:
You can add many types of discounted prices to cover all the needs.
If the Happy Hours Pricing and Custom Service Duration add-ons are configured for the same service with different prices, the price set for the Custom Service Duration will be prior, that is, used for bookings.
Refer to our add-on documentation for more use cases.
In the booking form on the frontend, your customers will be prompted with the message about discounted pricing.
You can also add extra text lines somewhere on the website to promote those hours or dates when you want to encourage people to book to boost engagement.
To conclude why use the Happy Hours add-on
So, why create dynamic discount pricing for services with the Happy Hours pricing add-on by BookingPress?
The answer is simple: it is a great way to attract more customers and increase your booking rates by offering them lower prices during times when you are less busy.