How to Get Clients on Your WordPress Service Website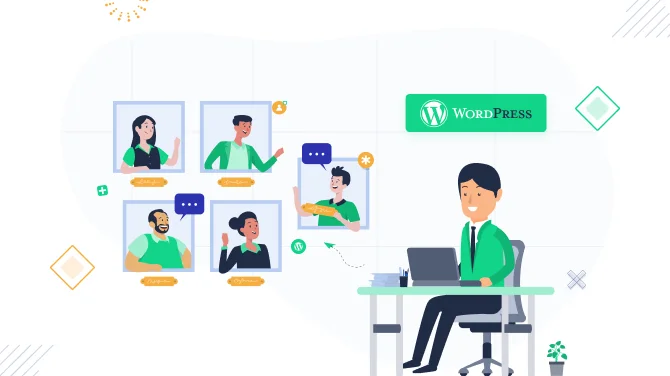 How to get clients on your WordPress service website? It's no easy task. You have to have various processes in place, validate their effectiveness, and then keep regularity in realizing your plans!
Why is this beneficial to direct clients to your service website?
You may want to centralize all appointment bookings via your website.
You may want to improve people's understanding of your brand or services.
You may seek some sort of interaction with your clients on your website (leaving reviews, following your social media, etc.).
Improve the number of customers.
Increase revenue!
The basic thing to understand is that you need to optimize your website internally (so that Google and other search engines show it to the relevant people) and externally (get links to your website from authority resources).
Let us create a parallel with the culinary sphere. A chef creates the perfect recipe for a new dish by maximizing their tries. Literally by experimenting with ingredients and techniques, even outlandish ones more often than not. But that helps them create the perfect culinary masterpiece!
Your traffic and media engagement works similarly: the more engagement and the more traffic, the chances rise for more followers to become loyal customers and more people to buy your services.
So your main goal is to increase sources of your website traffic, meaning the ways people reach your website.
Now, let's move on to the actionable top 5 tips to get clients on your WordPress service website.
Implement SEO best practices to increase organic website traffic
To have your website optimized for search engines, such as Google, Bing, or Yandex, you need to understand SEO best practices and trends in digital marketing that can be effective for your business industry.
Optimize your WordPress for local keywords. Focus on the service names, brand types, your location, ingredients, and more things your customers might be interested in. Always craft the appropriate meta titles and descriptions, alt texts on images, etc. Learn the importance of on-page SEO.
Maintain a blog with diverse types of content. Publish blog posts with topics around your business niche on a regular basis to attract your target audience. Use different types of media, including videos and audio. Optimize media data to be better understood by search engines by using structured data. You can also invite guest bloggers who can increase your readership with their opinions and helpful articles.
Investigate traffic to your competitors' sites. It's important to understand what your competitors are doing to boost their visibility, what sources of traffic bring them the most value, and direct part of your energy to similar sources. Tools like Ahrefs can help you with this.
Optimize your content for AI. What does that even mean? Google is planning to launch a new AI-generated response that will pop up first in search results, without citing any specific web source, so businesses are thinking about how to get mentioned in that result. One of the most known ways today is creating more links across the net with your brand or product mentions.
Update outdated content. Track the essential metrics for website traffic, for specific keywords as well. Particular keywords gradually decrease in position over time.
Some of these may sound like easy steps to perform, but remember that overall SEO is a complex and changing thing, so you may want to consider having an in-house SEO engineer who can keep an eye on dozens and dozens of things, freeing you up you the time for doing business.
Display your services via aggregator platforms
You need to use the power of the popular listing websites to get attention from your clients and direct them to your independent website.
Examples below:
Instacart: If you offer grocery delivery services, you can help people order groceries online from local supermarkets and have them delivered.
Care.com: A website for caregiving services, including babysitting, elder care, tutoring, and pet care.
HomeAdvisor: An online platform that aggregates home improvement and remodeling services.
Look for the service listing platforms available for your business type in your area, especially those where you can get a link to your website!
Get traffic from social media platforms
It sounds banal, right? But if you do it right and put a lot of effort into social media marketing, it's going to be rewarding.
Always use relevant hashtags.
Use different types of engagement (questions, polls, feedback, raffles).
Take part in various discussions in groups or on personal pages.
Create a group around your topic of interest and post engaging content independent from your service website.
Reach out to influencers and reviewers to get your website featured
It might be expensive, but still one of the most effective ways to get clients on your WordPress service website is by getting featured by an influencer.
However, you should do very good research before you contact one, to make sure it can deliver value to your product. Here is the info to check out:
The number of followers.
The values they communicate as personalities.
Engagement by followers.
Other companies and services they advertise.
Optimize email marketing
Email marketing still stands out as one of the most effective channels to reach out to clients and get them back on your website.
Of course, this normally means you will need to work with already existing clients, but getting them back to your website, and creating a base of returning customers is just as important.
Let's make conclusions
So how to get clients on your service-based website? It involves a lot of work and our suggestion for prioritizing the tactics is as follows:
First of all, optimize on-page SEO to create a quality website with engaging content to drive organic traffic.
Optimize your external channels: social networks, guest posts, and influencer marketing.
Appear on high-traffic websites that are relevant to your service business.
Increase the base of returning customers by boosting your email marketing.
Experiment with creative and engaging content types.
Learn AI and how to optimize your SEO efforts according to its work.