How to Integrate Online Payment into Fitness Studio Website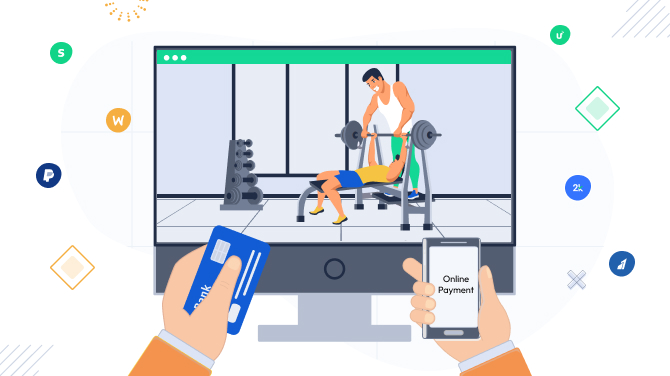 Want to start selling gym membership and fitness studio services online? With an independent website on WordPress, it's easy to accept payments online.
By integrating payment processing options, you can boost your cash flow since funds are processed securely and much faster.
But wait, how exactly can you integrate payment methods into your fitness studio website? And what's the best way to do it without breaking the bank? We've got you covered with our quick tutorial.
What is online payment processing?
Online payment processing deals with a software that enables your website to securely accept payments through credit cards or unified financial platforms, including such recognizable solutions as Stripe or PayPal.
In simple terms, it is a tool that allows your business to collect payments from customers over the internet in a safe and efficient manner.
Three ways to integrate it with your fitness studio website
In WordPress, there are a few ways to integrate payment processing into your fitness website.
Use standalone payment method integration plugins
You can integrate dedicated plugins into your current WordPress website to enable online payment processing. With these plugins, you can easily add a "Book now" or "Buy now" button directly to your website. To do this, you'll need to have a page that features your services or products.
However, one limitation of this approach is that these plugins are typically designed to work with only one payment method. Therefore, you may be limited in the types of payment options you can offer your customers.
Use an ecommerce plugin that hosts multiple payment methods
Popular ecommerce plugins for WordPress, such as WooCommerce or Easy Digital Downloads, offer the convenience of allowing you to offer multiple payment methods to your customers. This is a significant advantage since different people have different payment preferences.
Although being highly customizable, these solutions are primarily designed for online shops, which may not be an ideal fit if you sell memberships or hourly bookings.
Use dedicated software for fitness and gym studios to accept bookings, payments, and manage clients
Choosing a dedicated software for your fitness studio website allows you to manage clients, bookings, and payment processing all in one place. This ensures that the payment processing method integrates seamlessly with the entire process of booking a session or membership at your fitness studio.
Most fitness software solutions come with their own list of payment method integrations, making it easy to find a solution that works for you. By opting for such software, you can simplify your management processes and create a more streamlined experience for your customers.
How much does it cost?
So, what's the cost of integrating online payment processing into the fitness studio website?
Well, it all depends on which payment method and software you choose to integrate. But don't worry, we've got you covered with some basic pricing concepts to help you understand:
Firstly, you'll need to consider the cost of using payment methods such as Stripe or PayPal. They have their own pricing plans, for example, Stripe currently charges 2.9% per successful card charge.
If you're using WordPress, the cost of integrating these payment methods will vary. However, there are even free WordPress integration plugins available if you only need to use one payment method.
If you're using dedicated booking software or ecommerce plugins like WooCommerce, the cost of integrating payment gateways may be included in the core product or sold as an extension. For instance, if you want to integrate Authorize.Net via WooCommerce, you'll need to pay $79 per year.
Why invest in payment systems for your fitness studio
Why should you consider investing in a payment system for your gym or fitness studio? Well, for starters, it usually comes bundled with some pretty awesome gym membership software that can handle a variety of tasks, not just payments.
This software is where all the magic happens, making it easier for your staff to manage memberships and keep track of member information. And here are a few more reasons:
An online payment system eliminates the need for separate renewal and registration procedures.
Automate invoice sending and keep track of all the payment information.
Member information is automatically sent via email (or other means), reducing the workload for your staff.
Less work for the fitness studio management staff. They don't need to pick up all those calls and search through spreadsheets.
By storing all customer information in one dashboard, you can automate and improve your sales campaigns.
Investing in a payment system can position your gym or fitness studio as a technologically savvy and trustworthy brand.
Level up the security of your payments: online payment processing systems are designed to be secure and protect both the business and the customer from fraudulent activities.
Save on operational costs and improve the bottom line of your entire business.
How to integrate payment processing into a gym website with BookingPress
BookingPress is one of the most recognized appointment scheduler plugins for WordPress. It's made to help you smoothly add a booking widget to your fitness studio or gym website.
With the basic price of $69 per year, this booking plugin supports 15 various popular payment gateways for free and WooCommerce – to connect even more if you need any.
Before we even move on to the process overview, see it in action on a demo fitness studio website.
Here is what it usually takes to set up BookingPress:
Step 1. Add your fitness services (unlimited, with no extra cost).
Step 2. Create a flexible schedule for the availability of your fitness studio.
Step 3. Set up your booking rules, for example, enable group bookings, set currency, etc.
Step 4. Customize the booking widget to be suitable for your current WordPress theme.
Step 5. Set up payment processing methods, including PayPal, on-site payments, and more. Optionally choose to accept only part of the payment in advance.
Step 6. Add a booking widget to your site.
Step 7. Manage customers and bookings in a handy dashboard
There are multiple tools you can further manage your clients and payments using the range of features provided with the BookingPress tools.
Conclusion: Get paid online for your fitness services
Getting paid online for your fitness services can greatly benefit your business by streamlining your payment process and boosting your cash flow. There are various options available for integrating payment methods, including using dedicated software or plugins like WooCommerce and BookingPress. While costs may vary depending on the method you choose, always make sure to check pricing plans and consider the long-term benefits for your business.
By following our tutorial and integrating payment processing options, you can easily start selling gym memberships and fitness services online on WordPress while providing a convenient and secure payment experience for your customers!