10 Awesome Vet Clinic Website Examples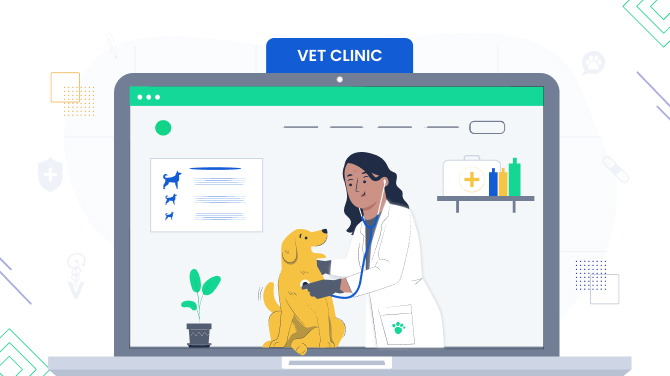 Are you planning to build or revamp your vet clinic website? Do you want to learn about good website examples in the industry, or conversely, see poorly executed websites to avoid their mistakes?
Today we're offering you to take a hands-on tour of the vet clinic websites in various regions of the world, including the US, Europe, India, Australia, and more.
Let's take a look at the websites and focus on their key features!
Bronx Veterinary Center
It's a well-designed vet clinic website that is completely focused on services, vets, and client stories as well. We dare say it's a great role model in usability, advertising, and booking convenience for clients. Above all, it features the simplicity of getting in contact with the vet clinic. They even have a separate accessibility menu, which significantly caters to the needs of people with disabilities.
Key takeaways:
The main focus is on the 'Make appointment' button and clinic phone number.
It's really feature-packed: client services, videos & images about the clinic, and more.
Given that the website is based in the Bronx, it makes sense for them to offer a language switcher between English and Spanish (which they do).
Learn how to automate appointment scheduling for a pet grooming salon, vet clinic, or pet boarding site.
California Veterinary Clinic
In this vet clinic website example, you can see that they offer various services for pets, including treating, pet boarding, and even an online store. On the cons side, the appointment booking and boarding options are not automated, clients need to call or email a clinic, which is not 100% comfortable for modern people.
Key takeaways:
A prominent 'Schedule an appointment' button.
The integration of a Google Map simplifies the process of identifying the clinic location for clients.
They are also selling pet products with an integrated online shop, which is a great way to generate more revenue.
DCC Animal Hospital
DCC Animal Hospital in northern India is a great example of a bright web design and technology-driven functionality for appointment booking needs. It also offers clients to download a dedicated app to manage their pet's health from a phone. Cool, isn't it?
Key takeaways:
Intelligently organized header and footer sections.
An interactive service table that helps customers easily compare services and prices.
A focus on the appointment scheduling service.
Johns Creek Veterinary Clinic
Johns Creek Veterinary Clinic is a decent example of a modern-looking, perfectly structured and easy-to-navigate website. Booking an appointment in this vet clinic is possible via the form on the separate page.
Key takeaways:
It offers detailed patient information for different types of pets right in the home page slider. These pages have a lot of guides, tables, and lists, which surely help to build trust with customers.
It comes with an integrated online shop, which makes focus on safe internet purchases.
The most visited navigation areas feature the 'Book now' and 'Shop online' buttons. One handy feature is that customers can upload files when requesting an appointment, such as the diagnosis history of their pet.
Southern Cross Veterinary Clinic
It's another well-designed vet clinic website with multiple icons, an online store, and automated appointment booking functionalities that allow customers to choose the needed date in the calendar and schedule a meeting.
Key takeaways:
Rich footer section with contact details of every location.
Regularly updated news and events section.
Lightweight and easy-to-navigate design.
Broadleys Veterinary Hospital
This vet clinic website is a nice example of a simple business presentation, without bells and whistles on the front page. At the same time, they have quite a lot of website pages, all perfectly structured and easily accessible from the website navigation menu.
Key takeaways:
Images of the hospital interior and vets at work help to build trust with first-time visitors to the website.
A neat contact with many filters to simplify an appointment booking process.
A big area dedicated to client information.
Halifax Veterinary Centre
The website clearly concentrates on providing a perfect customer experience and calls-to-action, such as the book now button, live chat, phone number, and social networks – all areas visible in the navigation menus. They also feature client testimonials, a list of services, and a team members list with a detailed bio and expertise of every vet.
Key takeaways:
They maintain a blog with short yet regularly updated articles that are truly essential for pet owners.
There is an AI-powered live chat widget that encourages clients to get in touch and ask questions.
A day-in-the-live video of the vet clinic is truly the best way to advertise your services.
London Veterinary Surgeries
It's an easy-to-navigate multi-location pet clinic website that allows customers to register their pets online, schedule an appointment, see the services offered, and call the staff. It also provides additional information on health checks and clinics, hospitalization procedure, pet passports, and pet travel specifics.
Key takeaways:
There is a special VIP plan for customers, which is promoted with a dedicated video and benefits listed on an individual page. It can attract customers that are looking for priority care and membership benefits.
In the footer section, they feature a list of rewards, certificates, and acknowledgments to their vet clinic.
The website features an eye-pleasing green color scheme, which evokes the concepts of health and support.
Island Trees Veterinary Hospital
A stunning vet clinic website example with a modern design, complementary colors, and smooth animation effects on scrolling. To book an appointment, people need to fill in the form or download an app.
Key takeaways:
They use icons to present their main services, this way clients can more easily and faster perceive information.
This pet hospital website features an image gallery from everyday life.
The website integrates Google reviews to increase trust with its visitors. Read how to make use of Google Business Profile.
Noble Veterinary Clinic
The website looks clean and free of excess, with a focus on the services, the vet team, and contact information. The homepage slider showcases both the interior and exterior of the clinic.
Key takeaways:
Easy to find any information on the website.
Credit cards are featured in the footer to signal that the website supports online payments.
A team staff page highlights the languages spoken by each of the veterinarians, which is a go-to choice for multinational areas.
Conclusions: What are the essential parts of a vet clinic website?
After reviewing these awesome vet clinic website examples, we are safe to make the following conclusions:
An integral part of the majority of pet clinic websites is appointment booking schedulers: manual and automatic alike. You don't need to be a coder to integrate appointment booking software.
In imagery, most revised vet clinic website examples feature pets together with people – pet parents of vets, which is essential to evoke empathy in website visitors and resonate with their needs.
The contact information is a must – whether you operate several clinics or just one, make sure to include your phone numbers, show the location on Google Maps, and optionally add an email address for non-emergency events.
Are you Tired of the Hassle of Managing Appointment Bookings Manually?
Say hello to BookingPress – your ultimate solution for automating the entire appointment scheduling process!
Automate your availability and bookings to streamline your business management on WordPress with BookingPress. Easily organize your clients, transactions, email notifications, reservations, schedules, and more to keep everything centralized and up-to-date.
Excited? You should be! Experience the convenience and efficiency of BookingPress, just like our global community of over 60,000+ satisfied users worldwide. Give it a try today and see the difference it can make for your business!