How to Build a Pet Grooming Website on WordPress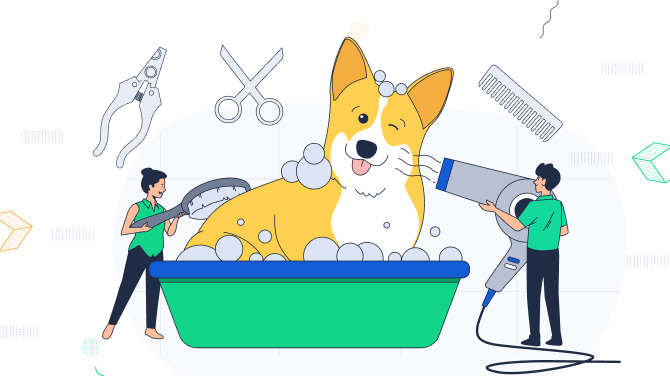 WordPress is an exceptional platform that offers security, scalability, and affordability, making it a suitable choice for various types of websites, including pet grooming businesses.
If you are considering using WordPress to showcase your pet grooming salon, and even allow online bookings for services such as brushing, trimming, and teeth cleaning, congratulations on making a wise decision.
In this overview, we will highlight essential factors to consider when starting your pet grooming website on WordPress, where to begin, and what software to integrate for maximum efficiency.
Set up your WordPress website
Although there are tons of tutorials available online on how to download and set up WordPress on your hosting, from beginner tips to technical guides, let's highlight the most crucial steps to help you create a compelling pet grooming website.
Get hosting and connect a domain name
Selecting the right hosting provider for your pet grooming website can be overwhelming, but it's essential to consider several factors before making a decision. Things like SSL certificates, automatic backups, and good uptime are crucial and hosting providers can help you here.
Your hosting provider should provide automatic WordPress installers so you can install and access your website quickly and easily.
If you're unsure about the technical process, don't worry – most hosting providers offer step-by-step guidance to help you get started. However, if your provider doesn't offer automatic installation, you can download the official software from the official wp.org website.
Choose a WordPress theme that is optimized for pet grooming websites
Choosing the right WordPress theme is crucial to make your website stand out. Pet grooming themes usually come with pre-packaged designs and pages that are tailored to your business type.
Moreover, they often include essential functionality pieces like maps, booking forms, and calculators that your clients will appreciate. So, make sure to choose a theme that suits your business requirements
Install and activate multipurpose WordPress plugins for security, performance & more
It's not recommended to launch your site without the support of such plugins, so don't ignore this step.
Every WordPress website requires various plugins for improved security, performance, and SEO. You should do your research and install multipurpose plugins that are best suited for your pet grooming website.
These plugins will help you improve the website's functionality, enhance user experience, and help you rank higher in search engines.
List your pet grooming services
Customers will choose you for the quality and variety of services you offer to their pets.
Your pet grooming services are your unique value proposition, so try to present them in the clearest and most attractive way.
Here are a few most commonly used solutions and tips for presenting your grooming services and packages:
If you sell packages, use pricing tables with compared features, and highlight the most available offerings. Clients must be able to quickly and easily compare and understand your services.
It's also important to include images that illustrate your services, and real photos of your skilled pet grooming employees can go a long way in building trust with potential customers.
Provide a clear understanding of your pricing and appointment timing.
Be transparent with your pricing and appointment availability, and list any cancellation policies or rules that clients need to be aware of.
Address any health and safety concerns that pet owners may have, such as protecting their pets from fleas and ticks, skin conditions like hot spots and allergies, ear infections, and even anxiety and behavioral issues.
Additionally, there might be extra-regional peculiarities you'd want to display on your website as well, so take the time to think about this too.
Integrate a booking scheduling software for pet grooming services
By adding a booking widget to your website, you can revolutionize the way you manage appointments for your pet grooming business. Not only will this simplify the scheduling process for pet parents, but it will also enable you to accept online payments and minimize the risk of no-shows. Here are some more perks:
Accept online payments and reduce the risk of no-shows.
Significantly reduce your operational costs by automating the booking process.
Centralize and automate all of your bookings, services, and payments, saving you valuable time and resources.
Simplify the workflow for your staff by reducing the need to manually take calls and, write down and keep track of upcoming appointments.
Automate multiple marketing processes, for example, send out automated emails or SMS with discounts and other promotions.
What's more, it takes no time to integrate a booking plugin into your WordPress. Here are major steps you can do with the BookingPress appointment scheduling plugin:
1. Add all your pet grooming services, it's easy to categorize them with the BookingPress plugin and simply search for the needed service for your customers.
2. Add employees who work in your pet grooming salon. Optionally make it possible for clients to choose the staff member on the website when making a booking.
3. Create a schedule for your grooming salon to automatically determine free and booked slots and allow clients to book only available ones.
4. Finally, set up the system settings, for example, which payment gateways enable to accept bookings and more.
5. Customize the booking widget and place it on your WordPress website.
6. Accept your first bookings!
Promote your pet grooming website on WordPress
Once you have your own website up and running, the next step is to make it visible to potential customers. Here are some effective strategies to promote your service business.
Get links to your website from popular aggregator platforms
It can take a while for new domain names to be indexed by search engines, so listing your site on external platforms like Yelp or BringFido with millions of daily visitors can help people find you easily.
Create a professional brand presence with Google Business Profile
This is a must-have for every business looking to verify its profile and establish itself as a trustworthy business in Google search results. You can also get free appointment booking links linked to your website from Google Business Profile and access a range of other tools to improve your business.
Get social and maintain a blog
It's essential to get social and maintain a blog. By regularly posting fresh and engaging content on your own blog and social media accounts, you can build and maintain a professional and trustworthy brand image.
Create a loyalty program for pet parents
A pet grooming business typically targets local customers, making it crucial to focus on customer loyalty and positive word of mouth.
One effective way to achieve this is by offering a loyalty program that rewards customers with points towards discounted or even free grooming services. By incentivizing repeat business and customer retention, you can create a strong bond with your clients. Quite often such things can also be automated via dedicated software.
Conclusion: Start your pet grooming WordPress website
To summarize, these three essential steps are crucial to creating a successful pet grooming website:
Launch a WordPress website with a pet grooming salon-optimized design to showcase your services and provide a user-friendly experience for your clients.
Integrate appointment scheduling software to simplify the booking process for your customers and automate various administrative tasks for your staff, such as managing bookings and sending out appointment reminders.
Promote your services and website on multiple levels to increase your online visibility and attract more customers.