How to Choose Online Hotel Booking Software?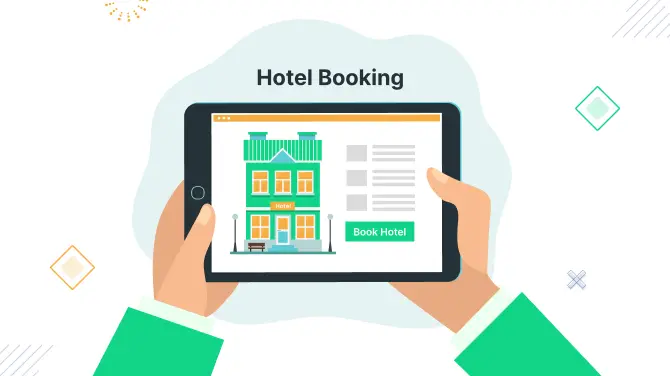 To choose the right online hotel booking software start with where you are now. Do you have a favorite design you'd like to use for your hotel – or probably you already have a website? Have you already chosen a website builder for a hotel? Are there any complex scenarios you'd like to cover with the hotel booking software?
In addition to some common features hotels need in their online presence, for example, channel managers (to be in sync with online travel agencies like VRBO), it's essential to understand how exactly things integrate with your website.
With the above in mind, we are now eager to share the checklist of choosing an online hotel booking software! Let's start with describing scenarios based on your starting point.
Understand your starting point
Many things depend on this criterion, ranging from design aesthetics to how much you will need to pay for the software.
If you are starting out from scratch and it's your first hotel website, here are possible tools.
Self-hosted all-purpose website builder
'Self-hosted' means you need to buy the hosting services and domain name yourself – and then install the software yourself, thus managing different things separately.
Popular solutions include:
WordPress (~ $500/year)
It's probably the most feature-rich and affordable software in the world, with the biggest market share. Good news for hotels, WordPress offers numerous free hotel designs as well as multiple commercial premium designs created purposefully for this niche. As for the hotel booking engine software, three solutions dominate the market: MotoPress Hotel Booking, HBook, and Vik Booking.
Plain HTML (~ $1000/year)
There are still HTML templates made and sold by agencies – they are mainly used by developers or people with technical skills. So if you are going to hire a developer to help you build a hotel booking software website, an HTML template is a very affordable way to start. For the hotel booking software functionality, you'll need to use third-party tools, where popular examples include LittleHoteiler and Sirvoy.
Drupal (~ $1000/year)
Drupal, just like WordPress, is another open-source CMS but less popular with non-technical users. In the context of a hotel website, Drupal allows developers to integrate various features such as booking systems, event calendars, and more, with the platform modules as well as third-party code and SaaS tools.
Subscription-based website builder
To explain this approach in simple terms, you choose a package and buy all (hosting, domain website – and sometimes even the booking engine for hotel) on one website, from one provider.
Wix & Squarespace ( ~$1,500/year)
These are two independent website builders (competitors!) that are very similar in nature. Compared to WordPress, they are more of all-in-one subscription-based solutions that give customers very intuitive tools for building a site. Wix has more hotel templates than Squarespace but the latter, in our opinion, offers more comprehensive and modern design solutions.
GoDaddy ( ~$1,500/year)
GoDaddy is a popular hosting provider, which recently launched its own website builder as well. Even though it gives you a powerful launchpad for creating an attractive hotel design, you'll need to resort to niche hotel reservation software.
To understand what better suits your needs, we wrote a WordPress vs Saas comparison, you won't regret it if you check it out!
Niche online hotel booking software
There are hotel booking software solutions tailored specifically for the needs of hotels and vacation rentals. They normally include all you need, from the website builder to the fully optimized booking software, but obviously, they cost the most.
There are many examples, some of them we have already mentioned, but the following ones are genuinely popular.
Lodgify (starting from $17/month)
Lodgify is a well-designed hotel software with a fully tailored booking engine, channel manager, and other necessities.
Cloudbeds (by requesting a quote)
Cloudbeds is a fully-fledged solution for hotel owners, with all aspects of the business optimized, from inventory and rate control to the channel manager and integrations.
Guesty (by requesting a quote)
Guesty offers hotel owners a seamless way to build a professional hotel website and integrate the hotel booking form all in one. The solution is optimized for various types of property, including serviced apartments and urban rentals.
So when you know which starting points you have, continue your research by assessing individual features of the online hotel booking software you need on your property website.
Look for an intuitive channel manager in the software
A channel manager is an irreplaceable tool to seamlessly connect your website with external platforms and property listings, including popular ones like Airbnb and Booking.com. Sooner or later you will need it because these platforms are only growing and travelers resort to them as trustworthy travel booking websites.
Here is a shortlist of things to look into a channel manager that can sync bookings with your website.
A two-way sync process – from your hotel website to the external site and vice versa.
Automated data exchange in real time to avoid double bookings.
Intuitive design and painless connection process.
The number of distribution channels that suit your aims.
Count the number of payment gateways you can use without fees
You want to take direct bookings on your property website, right? And payment gateways are the most secure and professional way to accept bookings protected by payment. It's, however, ultra important to understand which payment gateway options you have and whether it's free to integrate them with the software of your choice.
Check for instant SMS and Emails
Communication with your guests is top priority and the software should help you automate booking confirmations, cancellations, or any other types of follow-ups.
Check out in which way you can reach travelers – SMS, messengers, emails, apps, and more.
More features: integrations, rates management & apps
Let's now also focus on even more software tools helpful for property owners.
Multiple ways to diversity rates and packages.
Mobile apps are a sign of a good hotel booking software to help you manage bookings.
Assess the integrations portfolio – what marketplace integrations are you looking for?
Powerful front desk and calendars.
Solutions for digital marketing and performance analysis.
Guest engagement tools.
Conclusions on choosing the best online hotel booking software
To sum up, if you build your site with WordPress, you need a website design and a standalone booking WordPress plugin of your choice. If you use Wix, Squarespace, GoDaddy, or similar builders, which don't have native add-ons for hotel bookings, you should look for an external, so-called SaaS solution that you can integrate with your favorite builder. Most popular booking engines you can connect include Lodgify, LittleHoteiler, and Guesty – they can be also used as an all-purpose starting point for your online presence and literally offer the most advanced and business-optimized technology for hotels.
Do You Want to Automate Your Appointment Scheduling Process?
Look no further than BookingPress.
Automate your availability and bookings to streamline your business management on WordPress with BookingPress. Easily organize your clients, transactions, email notifications, reservations, schedules, and more to keep everything centralized and up-to-date.
Interested?
Experience the power of BookingPress and join our global community of over 60,000+ satisfied users. Give it a try today!