7 Best WordPress Event Booking Plugin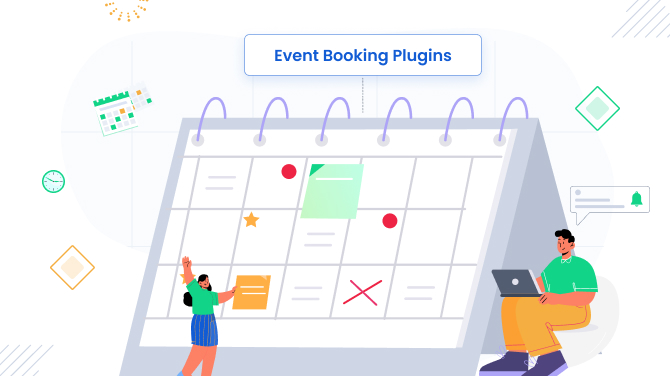 It takes a lot of work in the event planning business, such as venue selection, catering services, ticket sales, event branding, and more.
However, with the proper event booking software, you can significantly reduce the time you need to spend on event registration, ticketing, and payment processing, to name just a few benefits.
And normally it's a matter of a single plugin that is capable of saving you so much time and resources!
In WordPress, event booking plugins are much more than just the booking software, they allow you to automate many more event processes, get insights into the analytics, budget management, improve attendee organization, and more.
Of course, every event plugin will arm you with different levels of tools, so we are today tasked with comparing the best WordPress event booking plugin to help you spot the right choice for your business.
The Events Calendar
The Events Calendar is one of the best-selling options in the field of event management for WordPress. It shows its true potential in outstanding event designs and flexible essential features.
As its name suggests, it basically adds an interactive calendar to your site, where people can select available days and learn more/book their events. Depending on different pricing options, you can get the needed level of control and flexibility, for example, integrate Zapier for further upgrades.
You can view the plugin's demo for both sides of the business, such as attendees and event organizers.
Key benefits:
Sell event tickets online.
Integrated email promotion capabilities.
Allow users to submit events to your calendar.
EventIn
EventIn is a comprehensive event business-oriented solution for any business area, such as fitness trainers, meetup hosts, concerts, etc. Using the multi-vendor event marketplace feature, you can transform your event management website into a hub for vendors and ticket sales.
This event booking plugin makes it easy to set and maintain recurring events, allowing you to schedule daily, weekly, monthly, or annual events with customizable options. It supports such all-important WordPress integrations, as WooCommerce, Divi, Stripe, Elementor and more.
Key benefits:
Multiple events and speakers.
Unique QR codes for easy event check-ins.
Enables attendees to register for multiple events conveniently.
Modern Events Calendar
The Modern Events Calendar excels in helping you organize any type of event, from virtual and in-person to hybrid ones; even more so, it lets people submit their own events via the plugin on your website.
This booking software for WordPress allows you to register attendees, accept ticket payments online and further integrate the system with WooCommerce, Google Calendar, WPML, and other important third-party platforms and plugins.
Key benefits:
Multiple event display layouts: list view, grid, carousel view, and more.
Zoom and Webex integration for hosting online events.
The ability to check in attendees using the QR code scanner device.
FooEvents
This FooEvents event booking plugin for WordPress really shines when it comes to selling branded tickets to events; its booking functionality is also very powerful since it's natively built on top of WooCommerce.
Unlike many other best WordPress event booking plugins counterparts, FooEvents ships with a dedicated POS – a web-based point of sale plugin for WooCommerce, which makes it simple to sell and print tickets in person.
Additionally, it easily integrates with Zoom, allowing you to host not just physical meetings and events, but virtual and hybrid ones alike.
Key benefits:
20-ticket theme designs and the ability to create your own one.
Free mobile app for check-in.
Easily export data to external CRM, marketing, reporting, and other platforms.
Timetable & Event Schedule
This is a free timetable and event schedule plugin, which is made rather for displaying a schedule of your events. For example, if you are in a gym or school business, you can output an interactive, color-coded schedule of the current and repeating events, optionally with the speakers and other details.
On the cons side, compared to other WordPress event booking plugins, this events plugin doesn't support more advanced functionality and tools to sell tickets or accept paid venue registration. You can still allow event bookings on your site, but the booking possibilities must be integrated with other plugins, for example, WooCommerce.
Key benefits:
Completely free to use.
Has custom-made widgets for the block editor to create a timetable in the visual mode in Gutenberg.
Color-coding and event links to external or site URLs.
BookingPress
Even though BookingPress is not built specifically for the events business but rather for multipurpose scheduling needs, this booking plugin supports group appointments, which means you can safely use it for yoga classes or tour bookings for multiple attendees.
The plugin comes with a clean-looking frontend calendar that allows customers to choose available time slots, events, and instructors, and choose the number of people attending.
People can choose a preferable service duration.
A whopping number of 17+ payment gateways to accept event payments online or at the venue.
Multiple integrations with calendars, Zapier, and more.
Conference
It's a remarkable solution when it comes to ready-made and full-fledged designs optimized for different types of events, such as conferences, webinars, or coaching sessions. Thus, the best deal is to get the plugin along with a bunch of beautiful conference WordPress themes offered by the same company.
To sell tickets, the Conference plugin integrates with Eventtribe, which gives you enterprise-grade capabilities to handle ticket sales and manage their delivery.
Key benefits:
Customize and showcase sessions and speakers.
A library of good-looking and fast-performing event themes.
Categorize events by dates, category, and other filters.
This list could go on since there are a few more decent WordPress plugins for event booking, each of them requires further investigation, so let's at the moment help you pinpoint questions to help you choose the right solution.
Conclusion: How to choose a WordPress event booking plugin?
Here is a quick checklist of questions to consider when choosing an event booking plugin for WordPress:
Do you want to create a marketplace of events where hosts and people can submit their own events? Look for multi-vendor options.
Do you require a comprehensive event registration and ticketing system with customizable options such as ticket types, pricing, and availability? Pay attention to ticketing systems.
Is it essential for the plugin to offer advanced scheduling options, such as recurring events, multiple time slots, or event series? Look up recurring options.
Do you want to include images, location maps, etc.? Check out the level of integrations.
Is it crucial for the plugin to be compatible with your existing WordPress theme to ensure there are no conflicts? Check if there are theme integrations on offer.
If you found this article on nest WordPress event booking plugins interesting, read further on How to start an event business from home.