10 Tips to Create a Gym Website That Stands Out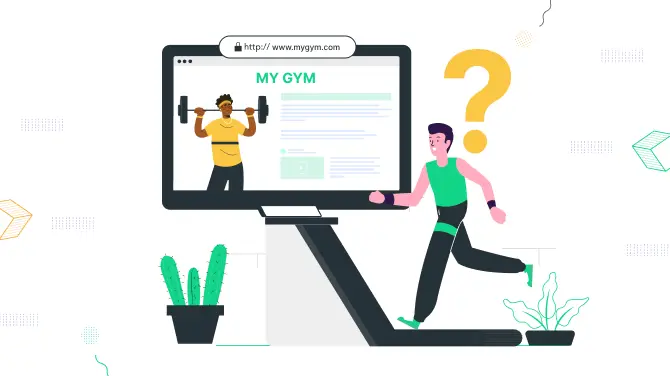 In this gym website tips post, we're sharing a few secrets on how to create a gym website that stands out! From a color scheme to showcasing your customer stories and choosing the right software, we will show you how to turn every visitor into a loyal customer.
Does your gym name actually work out for your business? We can help you understand with our ultimate list of 600 creative gym name ideas!
Get ready, we are now moving on to the best ideas to improve a gym website!
Choose a memorable gym website color scheme
Whether you start your gym website with turnkey small business website designs or hire designers and developers, don't overlook really crucial things, such as a color scheme.
Gym business websites tend to choose black, red, and overall dark shades of other colors to communicate strength and power. This is, so to say, a validated set of colors for the gym's online presence. But we have our reasons to encourage you to experiment and try unusual color combinations, such as green, violet, or orange!
This will help you make your website and gym brand more memorable, surely impressing your first-time visitors.
Add an entertaining gym video or a virtual tour
Awesome visuals are a must on any website, and a gym is no exception. We are sure you have a bunch of awesome photos of your gym that you can use on different pages of your website to attract visitors.
Without a video, however, you leg behind your competitors. In a high-quality video, you can show your gym's facilities, equipment, and even members – in action, which is more trustworthy and entertaining. Above that, videos are able to deliver the atmosphere of a risk-free space, which is essential to communicate for newcomers.
Even more so, now exist multiple tools for creating virtual tours of any property – they give an unparalleled real-life spirit to any place. Don't miss your chance to stand out from the crowd and competitors!
Make your membership plans and services absolutely clear
Make it super clear what services your gym offers and on what basis. Incorporate traditional service listings and comparison pricing tables; also display pricing in the booking engine software on your website.
Your prospects should not be confused or left with dozens of questions when they study your membership plan opportunities. This is of very high importance for the service presentation on your website as well as providing your customers with perfect website browning experiences.
Integrate online gym bookings
Okay, so, your potential prospects are having an unbelievable wow-effect after surfing through your gym website – they adore your interior pictures, are impressed by the staff, and find your gym membership plans pretty attractive!
Now the question is – how do they quickly make the first step and book a session in your gym, without a headache? Old-fashioned contact forms are good only for pre-sale questions. What's more, customers don't like to fill in long appointment forms – too many fields are stressful and people have no certainty that anyone on the other side actually keeps an eye on all those forms.
Make the process sweet and sleek – this is your task #1! We are sure you've stumbled upon numerous gym appointment software solutions to integrate online gym bookings.
Let us exemplify a few benefits of the BookingPress fitness software solution:
Make the gym booking process painless and quick with the convenient and mobile-friendly booking form.
Enable clients to pay via popular online gateways, including PayPal and Stripe.
Track payment and client info centralized and digitalized.
Create accounts for gym instructors.
Most importantly, not just first-time visitors will benefit from it! A smart gym booking software is valued by your regular customers as well.
Create a success stories page
Success stories are your best testimonials! Even more so, in the context of gym and self-improvement, they are even more valuable! Showcase your customers and their stories. It's no easy thing, of course, but gym business marketing efforts are simply not complete without the success stories page on the website.
We also encourage you to visit design-oriented platforms to seek inspiration for the best design examples to incorporate on the customers stories page.
Feature your instructors & their expertise
The more people you can show on your website, the better for the trustworthy image of your gym brand! Showcase a listing of your gym instructors, display their contact details, photos, interests, experience, and more personal information. The idea is to make your prospects fall in love with your instructors before they actually visit your gym!
Create an engaging gym website blog
Your gym website requires a blog – regularly updated website content is healthy for SEO and people! Here are our recommendations:
Create compelling headlines for your gym blog posts.
Use various types of media in posts, including images and videos.
Write regularly and involve your gym instructors to share their expertise (e.g. record a video with them).
Use trending topics.
Make the blog page link prominent in your site navigation menu.
Further reading: Learn the best gym management techniques
Personalize visitor experience on your website
Use specific software to create targeted messaging and personalized recommendations to cater to the individual interests and preferences of people interested in subscribing to the gym membership.
To make the task similar, integrate booking forms with so-called conditional logic: it asks questions based on the previous answers to help people choose the best membership gym plan that meets their needs.
Host online challenges
People in need of gym services are in the mood to take up new challenges. Become a middleman by hosting interesting challenges and enticing your first-time website visitors to enroll! Help them join challenges, get satisfied with themselves and, as a result, be grateful and continue using your services.
Maintain consistency in gym website SEO
Even the best gym website can lose its potential if people can't discover it. We encourage you to start optimizing your website for SEO once all the steps above are fulfilled.
How to do that? It's a very long story! But the most essential things include:
On-page optimization. Optimize your blog posts and pages using universal SEO solutions, such as Ahrefs, which allow you to incorporate keywords exactly how people search in Google.
Guest blogging. Write posts, forum answers, and more on third-party websites to get a link to your gym booking website.
Social networking. Find your unique voice and use it across social networks. It's also a perfect medium to run targeted online ads.
Conclusions & even more Create a Gym Website tips
Building a gym website that stands out among competitors is a long but rewarding process, so let's now sum up the most valuable tips:
Employ a consistent brand identity using the right colors, images, videos, and headlines.
Incorporate online gym bookings.
Make your website fast and SEO-optimized.
Keep content fresh and updated.
Offer a variety of membership options.
Create a member portal.
Run challenges and add gamification website elements.