Offline vs Online Bookings: How BookingPress Makes Difference?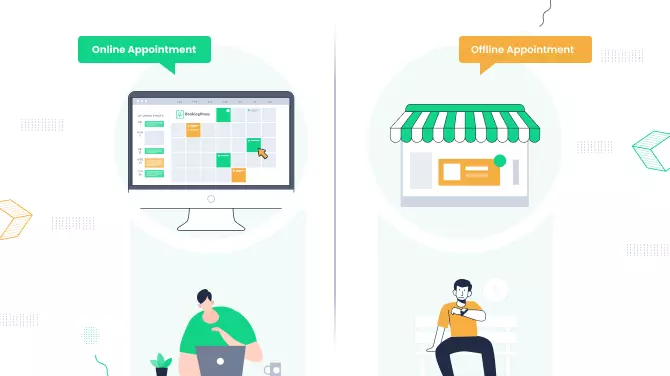 Hands down, the internet has transformed people's lives for good. It enabled people to order anything right from their homes in a few swipes. It's not about the established businesses or big brands that should have a booking website to sell their services online. Almost all businesses in the service sector, right from salon services, doctors, home bakers to wedding planners, all offer their services online these days.
If you are not selling your services online, you are already missing an extensive market online. Nevertheless, all of your competitors are available on the internet already, attracting your target customers. Hence, if you don't provide your services online, you will be left behind in the market.
So, do you want a booking website for your business? But, don't know how to get started? As many mistakes, it is not expensive. No, you need not possess coding skills to own a booking website. Yes, you heard it right.
Here we introduce BookingPress – All in one appointment booking plugin for WordPress. Before knowing about how this plugin can benefit your business, let's get started with the basics first.
What is BookingPress?
BookingPress is a full-fledged appointment booking plugin that enables setting up a personalised booking system according to your needs on your WordPress website effortlessly.
The plugin is ideal for every business that needs to manage its appointment scheduling online regardless of its size. Yes, right from big brands to individuals, anyone can leverage BookingPress.
Who can benefit from our WordPress Appointment Plugin, BookingPress?
Almost all service-based businesses can benefit from BookingPress. However, here are a few top industries that can drastically increase their ROI with a booking website:
Sports & Fitness
One of the potential service-based industries, sports and fitness studios, can benefit highly from a booking website. You can personalise your booking website according to your business and let your customers choose their time slots, trainers, sessions, and more.
Beauty & Salon
Ever booming service industry, as a beautician or hair stylist, or tattoo artist, you can let your customers book the services they need and on their preferred time hassle-free.
Online Education
Online tutors can schedule their classes and accept fees from their students as easy as pie.
Healthcare
What is more fulfilling for your patients if they can book their appointments online and get reminders for the same?
Repair Centres
A stitch in time saves nine. That saying goes well with repair centres. Customers can see your services list and book their preferred services in advance.
Personal Services
A booking system will allow your customers to take one-on-one service at a time convenient to both of you.
Getting Started with BookingPress: How to Set Up?
Setting up the BookingPress plugin is super easy, and almost anyone can do it right away. All you need is to follow these simple steps:
Go to your WordPress admin page, open BookingPress. Install the plugin, add categories, services, and payment methods.
Customise your front-end design and looks. Now add a shortcode to the page.
Voila! Start accepting appointments from your website using BookingPress.
Can it get any easier? Try it for yourself.
Why BookingPress?
Amidst many other plugins available in the market, why should you choose BookingPress? Here are some excellent features you can enjoy with BookinPress:
Customizable Appointment Booking System
BookingPress comes with a step-by-step booking wizard system for WordPress. Its user-friendly UI/UX suits almost all businesses. BookingPress is super flexible. One can change its appearance and content instantly. Plus, they can adjust their services and staff according to their business.
Intuitive Admin Dashboard with Advanced UI/UX
The BookingPress appointment booking plugin comes with a dashboard page that summarises all hands-on business-oriented widgets, charts, and tables. Thus, you can track and monitor your business performance handily.
Accept Payments Online
BookingPress is the only FREE Appointment Booking Plugin that allows PayPal payment gateway integration. Thus, your customers can make secure online payments, whereas you can accept appointments online anytime.
BookingPress vs Offline Bookings
Here are the premium features you can enjoy with BookingPress over offline bookings:
24/7 appointment scheduling
Unlimited services and bookings
Handy admin tools
Booking with calendar view
Customised email notifications
Online payment processing
Step-by-step booking wizard
Fully tunable booking form
Statistics and reports of your business performance
Productivity tools
Responsive design
In-built spam protection
Translation ready
Page builder's support
Final Thoughts
With so many benefits to enjoy from online bookings, why would you even go for offline bookings? Whether you are a business owner offering numerous services or an individual running a home-based business, the booking website can do miracles for your business. Yes, you can start getting bookings instantly.
So, what are you waiting for? Set up the BookingPress plugin and start accepting bookings right away.