How to Improve Customer Experience & Satisfaction with Online Bookings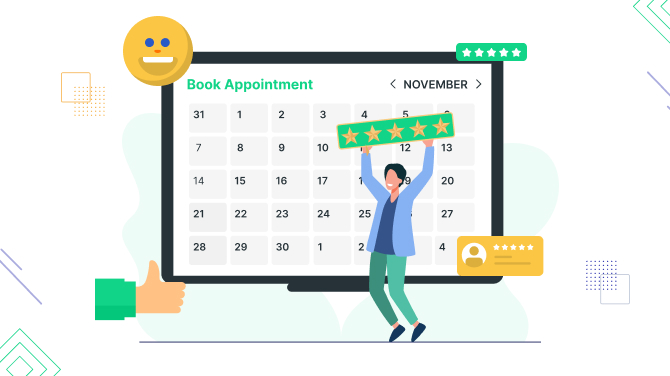 Help customers reduce stress when making a booking on your website. But what does it take to make the booking process on your website more convenient, efficient, and reliable? Many things in the answer depend on the particular kind of business you operate, but some, however, are common for many service and event industries. The key thing is a healthy combination of professional technology, transparency in policies, correct marketing tactics, and human guidance.
We are going to challenge you to improve your booking website, thus enhancing customer experiences and satisfaction during the reservation process! The software & more booking website improvement tips are below.
Use scheduling software for self-booking
We hope you don't accept booking requests via old-fashioned long forms no one likes to fill in. For the most smooth, user-friendly, and modern booking experiences, it's an absolute must to use automated reservation software.
The best thing about it is that customers can book appointments at their convenience, at any time of day and night, without having to wait on hold, fill out complex forms, or navigate annoying phone menus. This is actually the key thing you need to automate to significantly improve the customer experiences on your website.
Integrate online payments
When your clients can instantly pay online for their booking, they feel more relaxed and sure that their appointment, accommodation, or event place is secured.
Moreover, instant payments make the process more transparent and clear for customers as they know the exact cost upfront and do not have to worry about any hidden fees. It's of no less importance that you should provide as many payment gateways as possible to serve a bigger number of customers in your region. Use secure payment processors to protect customer data and allow them to book with peace of mind.
Offer deposit payments
Some clients can't or don't want to pay the entire cost of a booking. In this way offering them a partial payment option would sound like a great deal! The best scenario is to offer various options, including full and deposit payments, as well as on-site ones. The choice you give customers is your best friend!
Create 'happy hours' pricing rates
One of the obvious ways to improve satisfaction with bookings is offering discounts – and online booking software can handle it pretty well! Although it's not wise to offer discounted pricing rates out of the blue, offer discounts for your off-peak hours! This service pricing strategy is commonly referred to as 'happy hours'. It's a win-win! you get booked and at the same time help customers feel that discount-driven satisfaction.
Send instant notifications and reminders
Help customers remember about their appointments or arrivals by implementing proper communication strategies:
Send instant notifications on the booking statuses – the most convenient way is to reach clients via messengers and SMS.
Allow clients to add bookings to their favorite calendars – Google Calendar, Apple Calendar, or any other – this will help them have all their daily tasks centralized.
Automate booking reminders to help clients never forget about their reservation.
Offer a chatbot on your website
AI technologies have already helped multiple appointment booking websites. A chatbot or a virtual assistant is one of those great examples that can answer customer questions and help them book appointments. Today many chat software solutions also integrate AI chatbots.
Provide detailed information about your services
Seems obvious but very often website owners ignore providing maximum details about the services.
Use booking software that allows you to add detailed information about your services right within the booking widget, including images, pricing, availability, and duration. Don't force users to surf through your site to find the information about your services, make it easily accessible via the booking form.
Allow customers to book with a specific staff member
If you provide appointments, allow clients to schedule them with specific stylists, hairdressers, or doctors. This will improve customer experience and satisfaction for both first-time clients and loyal customers. 
Send detailed invoices for bookings
Invoices are a self-explanatory must for any business that deals with bookings. Just like with products, customers want to be able to track their spending, have legal proof of their purchase, and have peace of mind that their money is going to the right place. Usually booking software is a perfect automated system to send and keep invoices.
Develop a mobile app
If you are a big salon or hotel and can boast regular customers, keep in mind that you can significantly increase satisfaction with online bookings by offering a mobile app. This thing is always on their customers' mobile devices! As a rule, mobile apps allow customers to book appointments, manage their accounts, and stay up-to-date on the latest news and promotions of your services business.
Create an FAQ section on your website
An FAQ section is a must on the booking website to save clients time and effort, as well as reduce frustration. It won't just help you increase trust and credibility with potential customers! It's also a great way to help you reduce cart abandonment on your booking website, at the same time reducing the number of customer support inquiries.
Provide customers with a way to leave feedback
When customers feel heard and valued, they are more likely to be satisfied with a product or service. Make them feel they can always leave feedback, you are transparent about your policies, and allow them to read feedback from the other people! By collecting and responding to customer feedback, you are on the way to improve customer satisfaction, reduce customer churn, and increase customer advocacy.
To conclude on improving customer satisfaction & user experiences with online bookings
Have we got you thinking where it is best to start improving your booking website? Here are the main strategies boiled down into wider categories:
Have mobile-friendly software for smooth self-bookings on any modern screen.
Integrate online payments to help clients have peace of mind.
Provide more ways for clients to reach human or AI-based support.
Automate appointment reminders and confirmations.
Integrate a mobile app for bookings in addition to the website software.
Learn, build, and grow your booking business with the right software and marketing!