Best WordPress Appointment Plugins with SMS Integration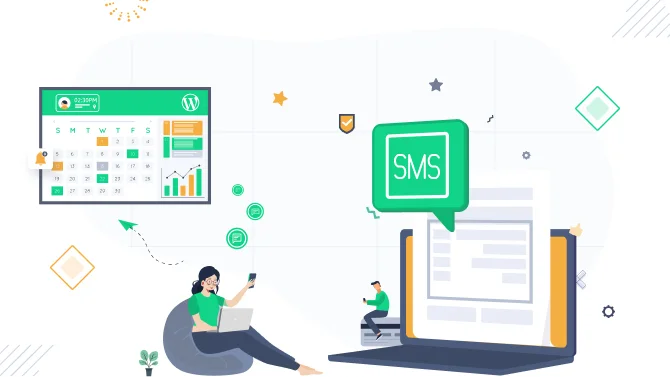 If you are searching for WordPress appointment plugins that allow users to send SMS messages upon appointment booking, cancellation, or rescheduling, we're here to help you.
We have compiled a list of the best WordPress appointment plugins with SMS features, so you can find the perfect plugin for your business.
Note: The SMS sending feature is pre-packed with some plugins, while others offer it as an optional free or paid extension, so we're going to also pay attention to whether it's difficult and costly to integrate it with every plugin, even if it's offered.
So let's start with the comparison table first, then jump to the description of each plugin below.
| | | | |
| --- | --- | --- | --- |
| WP Booking Plugin | Base Plugin Cost | Integration Type | Cost of SMS Integration |
| BookingPress | $69/year | Built-in extension (30+ SMS gateways) | Free |
| Appointments for WooCommerce | $89/year | Twilio extension | $49 per year |
| Amelia | €79/year | Built-in | Free |
| MotoPress Appointment Booking | $59/year | Twilio extension | $69/year |
| Bookly PRO | $89/once | Built-in | From $10 |
| Booknetic | $79/once | Twilio extension | $19 |
| Salon Booking | €69/year | Built-in (Plivo, Twilio, Ip1sms) | Free |
WordPress Appointment Plugins with SMS Integration Compared (2023)
BookingPress
BookingPress is one of the most popular WordPress reservation plugins for appointment scheduling, and what really matters for the point of our article, it smoothly supports SMS sending (as well as WhatsApp) with the smooth built-in integration you can use without charges.
This plugin offers the biggest number of SMS gateway integrations allowing businesses in different regions of the world to benefit from this awesome feature that significantly improves communication with clients.
Above that, this WordPress appointment plugin with SMS integration allows you to send messages that will contain the details of the appointment, including the date, time, and location.
Main plugin features:
17 built-in payment gateways.
Fully customizable booking form.
Unlimited labor forces, locations, appointments, and services.
Appointments for WooCommerce
Since this booking plugin was built to function with WooCommerce, it offers you easy integration with other WooCommerce solutions too, so you can further improve your appointment booking website.
Much of the difficulty with using SMS has been alleviated by direct connection to the already existing Twilio SMS Notifications extension for WooCommerce.
This plugin is very easy to set up and start using, which makes it easy for beginners, at the same time it's a great solution for developers thanks to its flexibility and customization capabilities.
Main plugin features:
Custom fields to build a truly tailored booking form.
White-labeled and developer-friendly.
Time zone conversion and rest API.
Amelia
Amelia WP is another top choice on the WordPress market for scheduling needs. Its main benefit is the smooth, animation-based, modern booking form design you can insert into your WordPress.
Amelia allows you to use SMS messages using the pre-integrated system, which makes it easy to create message templates for clients and staff.
Main plugin features:
Different pricing plans with feature variations to suit different business needs.
5 booking form templates + a fully tailorable form.
Very flexible schedule system.
Appointment Booking by MotoPress
With this plugin, you can create a schedule for automating your availability, accept payments via the integrated payment gateways, and control all appointments via a feature-rich dashboard.
The email messages can be automated along with the SMS messages, which can be connected via the purchased add-on. The plugin looks well-styled out of the box when used with its purposefully built WordPress themes.
Main plugin features:
WooCommerce integration.
Appointments for groups of people.
Customer accounts.
Booknetic
Booknetic's company at the moment sells the appointment booking plugin with plans to expand its product assortment to hotels, events, and other booking types. It's an all-around, powerful solution you can use for your private practice or scale to a multi-business scenario.
SMS notifications can be integrated via the add-on, which allows you to create a message template, set up the sender options, and more.
Main plugin features:
Multiple integrations.
Fully customizable booking form.
A mobile-optimized customer panel.
Bookly PRO
Bookly PRO is one of the most popular WordPress solutions for appointment-centered businesses, which allows for adding a stylish and lightweight booking wizard to your site with your custom colors and field labels.
The integrated SMS features allow you to send text messages to clients and staff members. But note that it will incur additional charges, which vary depending on the country of the sender (the list is provided in the docs).
The solution makes it easy to send out messages automatically based on events within the plugin, or you can schedule messages to be sent out at a later date. SMS notification templates can be updated with customized data, with the ability to include your company or brand name.
Main plugin features:
Multiple unique features and integrations.
One of the best-selling and highly-rated booking plugins.
Zoom and Google Meet support for virtual meetings.
Salon Booking System
Being installed on 10K+ websites, this plugin is designed specifically for the service businesses, such as clinics and hair salons.
The Salon Booking plugin integrates several SMS gateways, and you don't even need to install other add-ons to start using preferable SMS providers. It provides a detailed tutorial on how to get on with each method and set it up properly.
Main plugin features:
Powerful bookings calendar in the admin backend.
Google Calendar sync.
Conclusion: What is the best appointment booking plugin with SMS integration?
We've tried to highlight the main features of the WordPress appointment booking plugins with SMS and also included their cost.
We hope it will help you decide what the best value for money for your business is. Besides that, consider the following:
SMS are usually brought to the plugin via the middleman of the third-party dedicated services. In addition to the cost of the SMS integration, consider also the cost of each SMS/the SMS provider service usage cost.
BookingPress, Amelia, and Salon Booking plugins offer SMS integration for free.
Bookly PRO and Booknetic offer the most affordable base plugin cost with a one-time payment.