How to Create a Hairstylist Booking Website with WordPress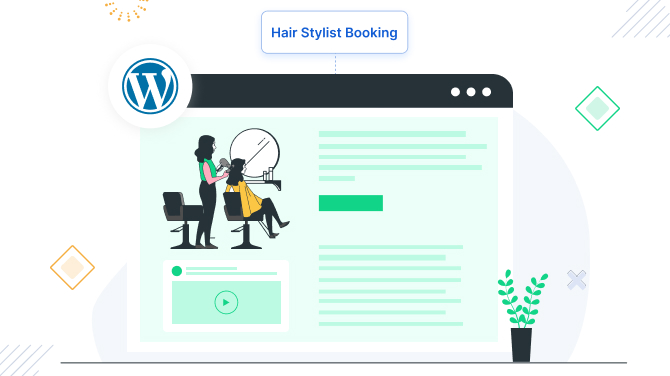 A hair stylist website can do much better with appointment booking functionalities. With WordPress, all the more, it's not just doable but also affordable! Today's article is dedicated to covering the central details of creating a WordPress booking website for hair services. Let's get started!
Find Appropriate Hosting & Domain Name
If you have not picked a hosting company, it makes sense to look for one that specializes in WordPress. It's also cool if there are features to help you zoom in on success: one-click installation, automatic updates, and security features.
To narrow down your domain options, a list of salon-relevant keywords is to the rescue: check out our great list of salon names to use. Once you have it, try out different combinations on a domain registrar to see what's available.
If you're not sure which domain extension to choose, .com is a safe bet, but you may also want to consider .net or .co. Once you've chosen a domain, make sure to snag it up quickly before someone else does! GoDaddy or Namecheap are quite popular registrars.
Choose a Hair Stylist Website Design
How to create a hairstylist website that stands out? Find our recommendations below:
Choose a niche salon WordPress theme, it will offer you many design solutions. Popular all-purpose salon theme names include Lotus Spa, Divi, Chérie, and Jacqueline.
Add high-quality images and videos.
Feature your stylists on individual pages.
Create customer success stories.
Showcase your service offerings in a comparison view.
Integrate Hairstylist Booking Software
Using the BookingPress specialized software for scheduling and managing appointments, you can create an outstanding and powerful hairstylist booking website on WordPress.
There are three global aspects where the BookingPress appointment booking plugin is ready to serve any advanced requirements:
Build a salon with multiple locations.
Customize individual flexible schedules for every stylist.
Control your payments and appointments in one convenient dashboard.
Add your hairstylist offerings
Thanks to the categorization options, it's easy to add various hair offerings, including haircuts, color services, treatments, and styling.
Use the booking widget as your advertising platform! BookingPress opens all the doors for this, for example, when adding services, you can:
Add multiple hair stylists, assign services to them, and allow clients to choose a person.
Add compelling service descriptions with images of hairstyle examples.
Optionally offer bookable extra services (earn extra money!)
Set default service duration or allow a client to choose a service duration.
Add time windows (buffer periods) between appointments to give yourself time to get properly prepared for the next client!
Make it easy to pay online via 15+ payment gateways, full or partial cost.
Get your bookings!
Moreover, if you run workshops that can accommodate many people, also no problem to make it bookable through the hair stylist reservation form. Customers choose the number of people in the specific menu in the widget.
Organize your schedule
BookingPress makes it easy to create a schedule that will automatically update into available and unavailable slots in the booking calendar. Clients will simply click on the dates to make bookings!
How do you make it work for your business? Set up a schedule. In BookingPress, there is a global schedule (in Settings > Working Hours), where you can apply regular working hours, add holidays, special days, and other breaks.
A shift schedule that you can build for every stylist (if you have many) can be pretty flexible by adding holidays, days off and other ways to customize regular working hours.
Based on the service provider, you can also set the service cost variables and the number of people that can be accommodated within one appointment.
If you wish to set up a personalized working schedule for every stylist, navigate to the roster of all staff members, hover over the chosen individual, and select Shift Management. In the opened menu, you will be able to tailor working hours extensively for each person.
Another awesome thing is that you can enable every person to have individual bookings and client management accounts. Read how many awesome tools your stylists have with BookingPress profiles. To add many staff members, navigate to BookingPress > Staff Members.
Among multiple settings you can customize for every staff member, it's easy to sync employee's Google Calendar to their accounts (via the Google email address). This means in addition to emails and SMS, hair stylists can also use Google Calendars and get instant notifications in the most convenient way!
Manage multiple salons using the Locations functionality
Thanks to the locations solution offered by the BookingPress plugin, you can create multiple hair salons and assign them to individual people and services.
The location settings can include a photo, name, phone number, address, text descriptions, and services available in this location.
Customers can choose the closest or most suitable location in the booking widget!
Set up payment methods, emails, and more
Like no other WordPress plugin, BookingPress supports 15+ payment gateways, which you can connect if you have an account with them. Prominent examples include PayPal, Stripe, Skrill, 2checkout, Klarna, Mollie, and more!
You can also manage currency and taxes, create partial deposit payment opportunities at checkout, and manage cancellations.
In addition to that, you can create tailor-made client and staff notifications on all actions happening via the software, and automatically send them in different ways: email, SMS, and WhatsApp.
Next Steps for Your Hairstylist Booking Website on WordPress
Having built an outstanding website for hairdressing services, keep in mind that there is a great deal of work ahead. For example:
Make your website fast: download free plugins for boosting performance.
Optimize your SEO to make your hairstylist website discover online.
Integrate suitable plugins for appointment-based websites.
Integrate more marketing and functionality boosters using BookingPress add-ons: invoices, deposits, coupons, and more.
Submit your site to Google Business Profile.
Conclusions: How to Create a Hairstylist Booking Website with WordPress
WordPress is a unique opportunity to launch and manage any professional salon online presence, and a hairstylist booking website is no exception. Start with choosing a modern and performance-optimized niche design, register a memorable domain name, and integrate intelligent bookings management and appointment scheduling software. Enable clients to book your outstanding services online!