The Latest Trends in Appointment Scheduling Software (2023)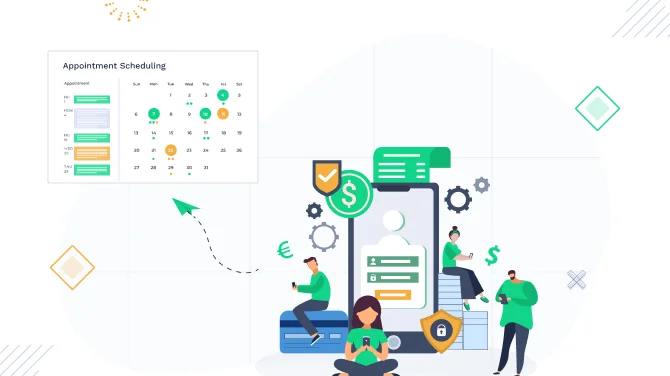 What are the latest trends in appointment scheduling software? How do the trends correlate with people's needs across the globe? What are the top features that make customers choose the software?
While some service businesses have not even upgraded their everyday routines to at least some sort of automated appointment scheduling, their competitors are thinking about how to bring even more modern technologies to their business, generate more revenue, and win the market.
When choosing the software, think about ways that would benefit you and your customers. Learning the latest trends in appointment scheduling software can help you with this.
Some ways are classic but not losing their importance, such as online test-drive of the software, others are completely new and evolving.
Focus on the integration portfolio
No software lives in isolation, and integration with other business systems and apps is becoming crucial for creating an attractive, multipurpose ecosystem for customers.
The number of software that solves everyday business problems is only increasing, ranging from region to region and industry to industry. The appointment scheduling companies must follow multiple trends in their niche to estimate which integration is prior.
For example, clients might want to pay online for the service using the easiest one-click Google Pay or Apple Pay gateways; or they would want to get the appointment to be instantly added to their everyday calendar that is always at hand, etc.
Or, For example, there are some country-specific limitations, multi-currency setup, commissions, fees, and other nuances that must be taken care of to cater to the wider variety of needs for clients worldwide.
Free demo & trial
No transparency about the purchasing process and the software itself is no good for the booking software promotion.
If you are a software company, it's important to allow clients to give a test-drive to your tools during the most optimal period, for all the participants of the business process, such as clients, staff, site managers, and more to help you improve the overall client satisfaction. It won't just help you build a better brand identity but will also allow you to sort out unsuitable clients.
POS software to improve customer service
Some scheduling software providers go further by integrating physical devices into the process of interacting with clients and optimizing business workflows.
There are a few benefits why businesses might choose the software with POS available:
Personalize services and provide a better customer experience since POS is able to store contact details or service preferences of your customers.
Better keep the inventory and manage stocks.
Track the working hours and performance of your employees.
Better manage discounts for regular clients.
Run promotional campaigns based on the information stored in POS.
Industries such as salons, barbershops, makeup artists, and similar ones have shown significant improvements in their entire business processes with POS systems.
Synchronization to different types of calendars
We could safely add this to the integrations portfolio part, but while some software scheduling providers might not be super careful with the integrations, adding calendars is a must! This feature is between a trend and a necessity.
Thanks to this feature, every custom software finds its way to clients and staff via popular and favorite apps, such as Google Calendar, Apple Calendar, Outlook Calendar, and more.
AI (Artificial Intelligence) tools
Generative AI technology is only developing but even at the current stage, it's a huge booster to the productivity of many business owners.
Since 2023, we've learned a lot about LLMs, and trained on vast data sets to be able to read, summarize, and generate text and code. This surely boosted the sphere of AI tools that can predict and mimic human responses, which can be particularly helpful in support and communication with clients.
How can appointment scheduling software embrace AI? Here are a few examples:
For virtual appointments, automatically take notes on your Zoom and Google Meet meetings.
Virtual try-on, skin analysis, and more.
AI-powered service recommendation.
Human + automated AI support.
Here you can read about more AI solutions used in the appointment scheduling business.
Mobile apps
Whether it's the bookings management, client loyalty program, or staff productivity app, these are for sure on the rise. Mobile apps are persuaded by many as a quicker instant to business, learning, or analysis.
The most successful and useful apps you can connect or develop for your business, the closer you are to your clients. What are examples of mobile apps for appointment scheduling software?
Inventory and bookings management.
Productivity management.
Client communication.
Utmost customization
The best appointment booking software is the most agile and customizable software, without hiring developers and designers.
On various platforms, such as WordPress, it might be a big challenge to introduce deep customization options for the software, such as for the booking form or the price rating system, but in any case, it's a big scheduling software trend to introduce the utmost customization options.
Conclusion: How to embrace the latest trends in appointment Scheduling software?
What shapes today's appointment booking software and what trends can bring more value to your everyday business? We're introducing our conclusions below:
Focus on the client's needs, specifically in those regions you are targeting.
Integrate more personalized service offerings and loyalty programs via artificial intelligence.
Provide quicker access to business (e.g. bookings, clients) with mobile apps.
Offer vast design customization options for the booking software.
Integrate a powerful POS to boost customer experience and the brand's authority.